Anything worth celebrating requires a toast, and every toast requires a drink. At House of Current, we toast to each and every day! Especially summer days. Maybe it's the Campari talking, but we're confident that if branding doesn't work out, we could open a pretty amazing cocktail establishment right here on the Atlanta BeltLine… we already have the bar cart! Of course we love what we do and like our shoes too much to constantly walk on sticky floors. Still, we're using this as an opportunity to share some of our favorite warm weather thirst quenchers in hopes that you'll stop by and enjoy one with us on the patio. Those that drink together, think together! Ok, this is definitely the Campari talking.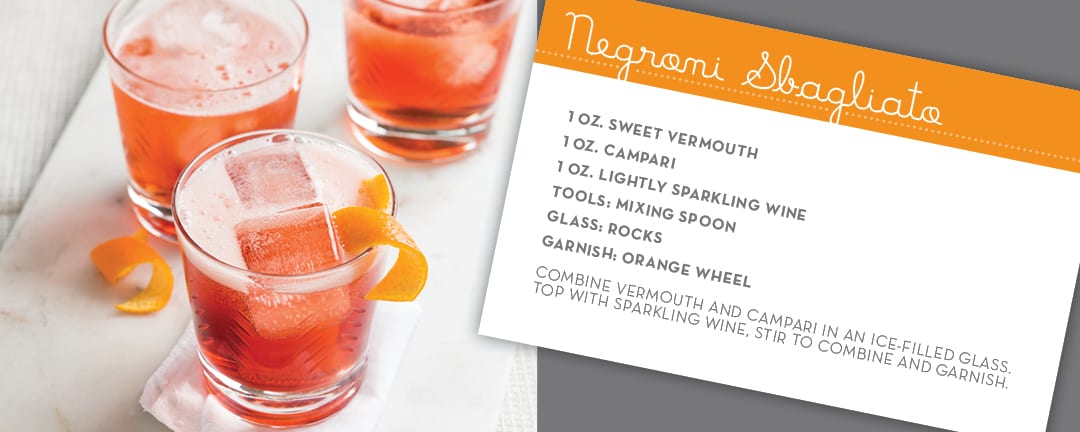 My usual go-to is either an Americano or a Negroni, both featuring Campari. But when I discovered the Negroni Sbagliato, I knew this was my new Summer drink. It's just like a Negroni, but instead of gin you use sparkling wine. I was hooked! Light, refreshing and oh so happy in the summer months. #Cheers
LISA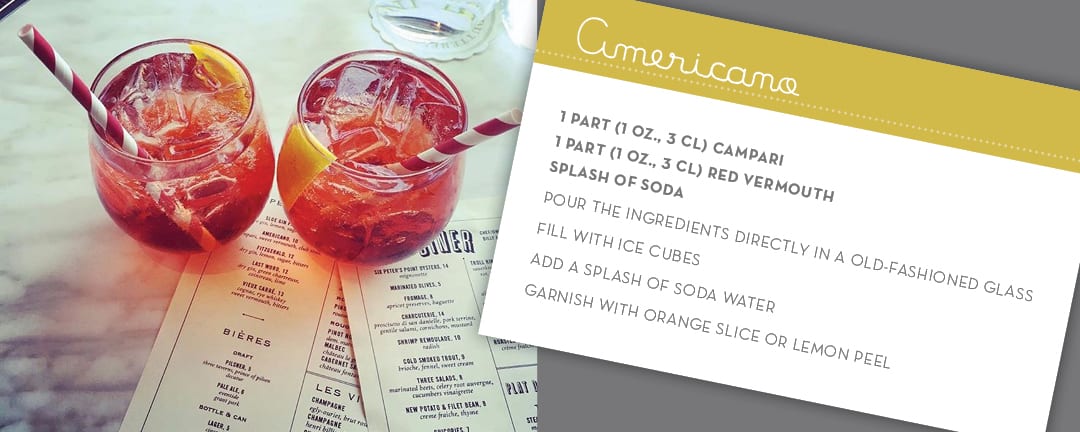 I love Campari. I'll drink it straight, with club soda, in a boulevardier, or as a sbagliato. But my most favorite Campari concoction is the Americano cocktail. It's an easy one to make and is perfect literally anytime, anywhere, anywhy. Want to make me happy? Offer me an Americano!
Photo cred: me
WENDY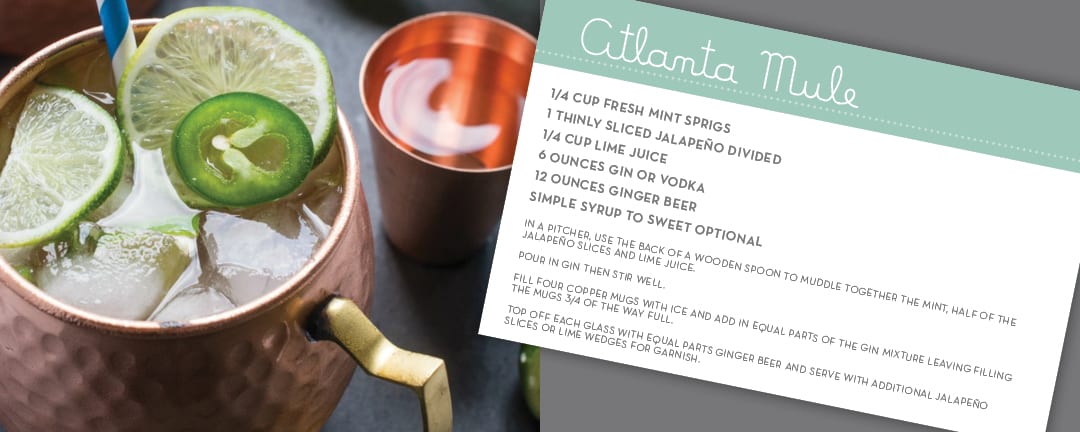 I'm not going to try to pretend that I'm a drinkie (the beverage equivalent of a foodie), as I still enjoy the occasional wine cooler. But for me, there is nothing better than sipping ginger infused happiness out of a copper cup* in the company of good friends around a big fireplace. Now obviously it's summertime, so swap out a big fireplace for an even bigger porch. And we're obviously not in Moscow, so let's call it an Atlanta Mule. However, keep the good friends, and while you're at it, throw in some jalapeños! It's an Atlanta summer drink, after all. It's gotta be hot. *No copper cup, no deal.
KATIE
I'm a big fan of eating seasonally – and love the idea of drinking seasonally, too! I also love the idea of tapping into ingredients that aren't always first to mind when summer blooms. This recipe is for a Basil Fig Vodka Smash – and I think it's the perfect unexpected summer cocktail! Fresh juicy figs and crisp, earthy basil bring back memories of my (very Italian) childhood. And the vodka of course brings it back to the adulthood party.
RACHEL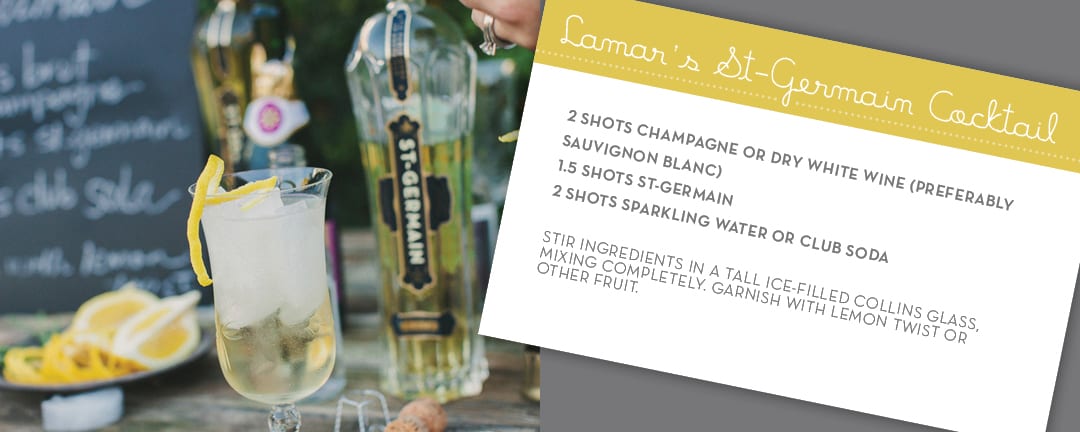 Call me a basic bitch (come on, I know you have all been thinking it since I shared my love of flavored, seasonal lattes), but there is nothing better on a hot summer day than a little St-Germain. My signature recipe is one that is easy to replicate at home and sip on the porch while listening to yacht rock. I've been trying to think of a fancier name just to jazz it up a bit, but remember, I'm basic.
LAMAR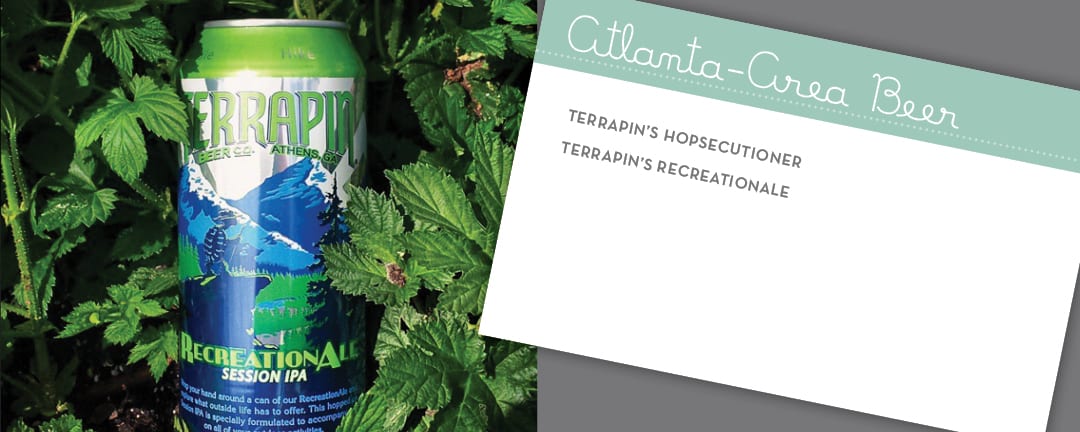 Not being much of a cocktail drinker, I don't have a favorite. I am a beer fan and with so many fantastic breweries in Atlanta and around the area, there is no shortage of delightful beverages to choose from. My personal fave is Terrapin's Hopsecutioner, but as the weather gets warmer, a lighter beer is in order and their RecreationAle fits the bill very nicely indeed.
SCOTT