There's no question that 2 Chainz is a brilliant artist, but what's been catching people's attention recently are his brilliant branding chops. Yes, 2 Chainz – known to friends, family, and HOC in the remainder of this blog as Tauheed Epps – is a well-versed (get it?) marketer. This was made abundantly evident with the construction of his now Insta-famous Trap House. The June '17 time capsule sadly closed its pink doors last week, but its legacy lives on as a smart lesson in strategy and design.
File that under things we never thought we'd say!
Every minute, 100 new artists come out with 1000 new songs, and with each of those songs come 1 million different marketing ploys. Some are more successful than others (we're looking at you, Fyre Festival), but Epps' Trap House is an example of how to do it right. For his upcoming album Pretty Girls Like Trap Music, Epps wanted to bring something completely original to the industry. Something to reflect his stand-alone status in the world of trap music. Something that said, "I'm different" – which is a bad joke referring to his hit single and proof we live with high-schoolers.
The Concept
For those who didn't know (guilty as charged), the origin of "trap music" is the ever-tabooed trap house, or a place where illegal drugs are sold. Epps' idea was to take one of these locations, somewhere generally judged and/or feared, and to beautify it, in turn making his music and the genre as a whole more appealing and accessible to a larger audience. *To clarify, this does not mean making the drugs themselves more appealing and accessible, just the music that a particular lifestyle gave rise to.
Born in College Park, Atlanta, which has also spit out the likes of Ludacris and Jermaine Dupri, Epps admits he hails from "the trap." Now as a dedicated family man and father of three, he set out to give those neighborhoods something positive to be proud of, and to shake others of any negative misconceptions.
The Location
Epps pitched the idea to his friend Trouble Andrew, a senior designer for Gucci, and asked him to collaborate as creative director for his album shoot. Trouble had already built a Gucci Trap House in Gucci's New York office, so the pairing seemed like a natural fit.
From Pittsburgh to Atlanta, the team scoured the country for the perfect location. They wanted the quintessential "trap house, non-descript and slightly ominous, in a neighborhood that was inner city enough to represent the intended culture, but approachable enough that people would still come. After nearly 6 months of searching, they ultimately landed on 1530 Howell Mill Road in Epps' home city.
The Color
Even 2 Chainz knows the importance of color selection when it comes to effective branding. The album cover needed to say "pretty girls like trap music" without actually saying anything at all – the "show, don't tell" principle of all good marketers, creative writing professors, and business-savvy rappers. Photography-wise, he refused to feature women on the cover at risk of isolating certain demographics or seeming physically selective. He wanted all women to see themselves in his music. In his own words, "every woman is pretty."
We like this guy!
Epps' solution was to paint the house pink. Every inch of it. Others argued it should be black, white, or even gold – but he knew what he wanted, and he knew why he wanted it.
"From Avon to breast cancer, pink symbolizes so much about the beauty and strength of females," he explained.
The theme was carried out through the house's exterior paint color, interior walls, cars parked in the driveway, tub, stove – even the forks and knives looked like they had been dipped in the Pink Panther's bathwater. It was a beacon of femininity, and an 866-square-foot emblem of creative prowess.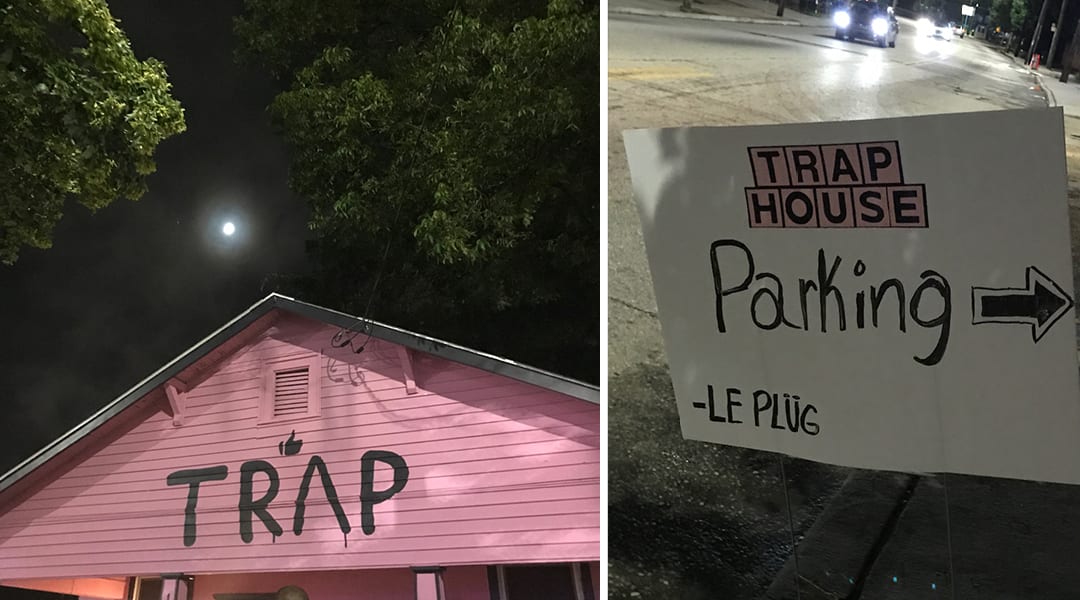 The Experience
With a characteristic "go big or go home" attitude, Epps knew his Trap House needed to be a full-blown experience. It launched with an opening-night listening party. It was a church for several Sundays. And in its final week, it served as a free HIV testing center. This was more than an album promotion. It was a community-oriented effort to bring trap music to the masses, and to positively impact the area and its people along the way.
Additionally, he wanted to create a unique photo opportunity, an invitation for people who wouldn't typically interact with his music or the trap scene to step beyond their comfort zone and see what it's all about. He knew this would explode on social media (here we are, exploding!) and once people started posting, more people would start visiting. If you show a mouse a picture of a pink trap house, he's going to ask for one of his own…
The more people visited, the more people would listen. And that's where we get back to his album. The reason behind all of this, and the manufacturing of a marketing master. Just think, 30 minutes ago you probably would've guessed 2 Chainz was a small-town towing company. And now, you just might consider yourself a fan.
The End
All hood things must come to an end, and the house is now back to its original color and up for lease. But House of Current thinks it would look really good painted orange and blue and brown…
2 Chainz, if you're ever looking for a career change, you know where to find us.