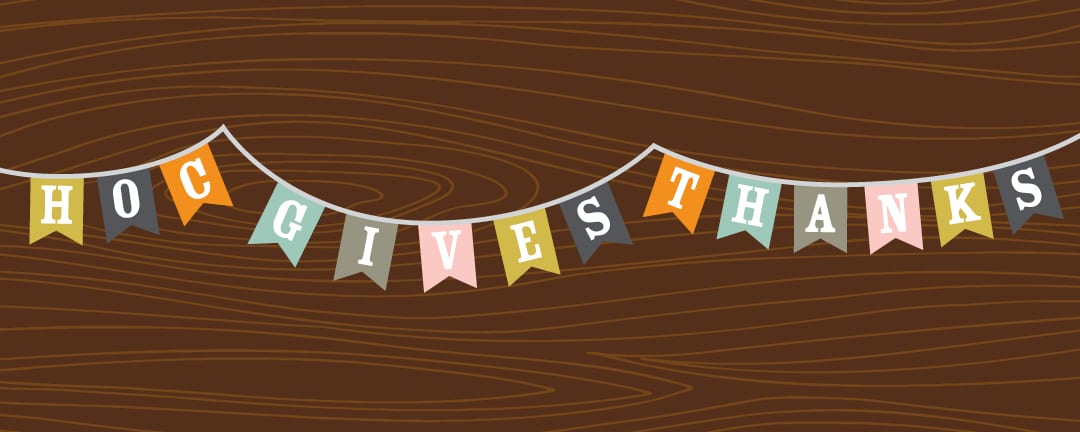 If you asked me what I was thankful for at the Thanksgiving dinner table, I'd probably freeze up and say something like "whatever the opposite of this fruitcake is" or a sweeping "all of you, of course!" Both true, but not necessarily as thoughtful of answers as the question deserves. In the days leading up to Thanksgiving, and even those following, it's important to reflect on everything there is to be grateful for, big and small.
So press your pause button (yes, we all have one) and take a moment to think about all the good in your life. When our attention is constantly consumed by headlines and subject lines, it's easy to not notice fall's changing colors, or the beauty in a busy household. We here at HoC are so thankful to work at a place where we can freely talk about everything that fulfills and inspires us. Most of all, we are thankful for our clients, who allow us to do that, day in and day out.
Oh, and a few other things, too!
wendy
"I dread thinking about this list every year, and I'm really not sure why, maybe it's because I have so much to be grateful for. And I'm just not a fan of writing. If you know me, you know I love short copy! Or even no copy at all. If I could say it in one picture I would, but then I would really mess up the format of this blog. So here it goes, but I'm not going to use any capital letters. (mostly because I'm grateful for lowercase letters)
i'm grateful for: my family! | my husband, who supports me in every possible way | the cuddles from my sweet little 17 year old puppy sophie | our clients, who are actually more like family and bff's | that i can actually say "i love my job" | my business partner and best friend are the same person #yougetme #maybeyouaretheniceone | our amazing group of talent at hoc, teamwork makes the dream work | working, traveling and creating amazing work with my husband (slp) and bestie (lisa)#iamverylucky | chicken picatta (it's a long story) | clients who trust us | new friends | old friends | new friends that seem like old friends | the high road, even though it's so damn hard | homemade almond milk | matcha lavender tea | growing up in a small town | seeing and experiencing the world | low humidity days | campari and any cocktail that involves campari | really good coffee | my bathtub | my health | being cancer free | food delivery services | my little 2001 car still hanging in there! | my iphone camera | bitmoji's | finally doing our kitchen reno | good days and bad days, because they are my days, and i am grateful."
lisa
"A long time ago, I adopted the idea of keeping a daily gratitude journal. I loved the idea of finding at least three things every day to be grateful for. Some days were more of a struggle than others (1. Coffee. 2. Coffee. 3. Coffee.), but often the list was much longer than the planned three (that I decided I should easily be able to come up with each day). I realized recently that this "gratitude habit" had gone the way of stretching every night before bed, and I actually miss it. Ending each day with a feeling of gratitude is truly priceless, given that some days are less-than-stellar. So this Thanksgiving, I am bringing back the gratitude list, and hope that I can continue it into 2017 and beyond. So, today I am grateful for: My family, including Trixie, who make me unspeakably happy/proud everyday. My company, and co-workers workers who are not only smart but funny and dedicated. My business partner/BFF Wendy, whose creativity, loyalty and strength are something I luckily get to witness first hand. Plus, she cracks me up on the reg. Our clients, who trust us to do what we love to do. Amazing friends. Sunday Supper. The beach. Good wine. Naps. Travel. A good Diptyque candle. Books. Laughter (shout out to Trevor Noah and Samantha Bee for making me laugh when I have wanted to cry). My health. Baby animals. Netflix (sidebar-I will be binge watching The Gilmore Girls Revival over the Thanksgiving holiday so a double whammy of gratitude there!) Music, and of course – coffee, coffee, coffee."
lamar
"This year I am thankful for a sporadic, loving husband and crazy happy pup. Both are always keeping me on my toes and there's never a dull moment in our household. We are thankful for good neighbors, who have also become great friends and our friendly and supportive neighborhood. This year we are grateful for the sense of community we feel at home."
katie
"Andy Warhol famously once said, "Land really is the best art." A-dub, I could not agree more. A wannabe Pocahontas at heart, this year I've taken even greater interest than usual in the changing of the leaves. I think it's partly because I recently acquired a bike, allowing me to spend more time outside, but also because I see so much of the world in a state of chaos, and nature seems to be the one thing free from hate and discrimination and politics (though I realize there are arguments against the latter). In one of my recent Instagram posts of admittedly filtered foliage, I wrote, "In the madness of this world, it's nice to know that some things still work." I didn't think about it much at the time (with shoddy cell reception in the mountains, I just wanted to get the post out before I lost signal). But the more I reflect on that idea, the more it resonates with me. I'm so thankful to be living in world filled with such an abundance of life and color. One where I can still witness the seasons change. Where flowers emerging from cracks in the concrete humble me with their resilience. And I hope to be able to say that for many Thanksgivings to come.
(Honorable mentions: friends who understand my mind, a family who has my heart, authors who let me into their worlds, and Adele.)"
scott
"I am grateful for each and every person in my life that adds happiness to my day. My lovely wife and amazing son, my friends, family, and super co-workers, my neighbors and the community I live in. I am grateful to have all of you in my life and I endeavor to return some happiness to your days, too. Thank you from the bottom of my socks."
mallory
"As I approach graduation and real adulthood in about 6 months, I have become extremely thankful for those that have take the time, energy, and financial support (that's you dad) to help launch me into my future. The simplest things like a contact in New York to the professors that work with me for hours a week going over portfolio pieces trying to make everything the best it can be truly mean the world to me and I could not be more thankful for everyone that has helped me along the way. I am thankful for the national and international adventures that I have experienced this past year for they have taught me more about myself, life, and the world than any class or book ever could. I am thankful for life's inconveniences, for they are a constant reminder of patience and humility and help me find joy in the little things like books and movies that make you think, viral dog videos, and adult coloring books while binge watching Netflix on a lazy Sunday. 2016 had truly been a whirlwind of a year but it has helped me to be thankful for so many new things, people, and experience."
rachel
"Many have warned me that the older you get, the more the years fly by. Real talk: they were right, and 2016 was no exception. In the madness of passing months and changing seasons, I find myself look forward to the holiday season more & more, using it as a time to focus in on the things that truly make me feel (real life) #blessed. Those things (in no particular order) are: my hilarious & kindhearted husband, my incredibly supportive & generous family, the most talented best friends a girl could ask for, the flower crown Snapchat filter (#WhyCantILookLikeThatEveryDay), almond croissants from Little Tart, HGTV, Splash Mountain, Tiki bars, puppies, Dolly Parton, and year numero 4 with a company that pushes me creatively every day, and makes my *job* never feel like a *job.* 2016, you were wonderful, challenging, heart-breaking, and magical. 2017: #LetsDoThis."